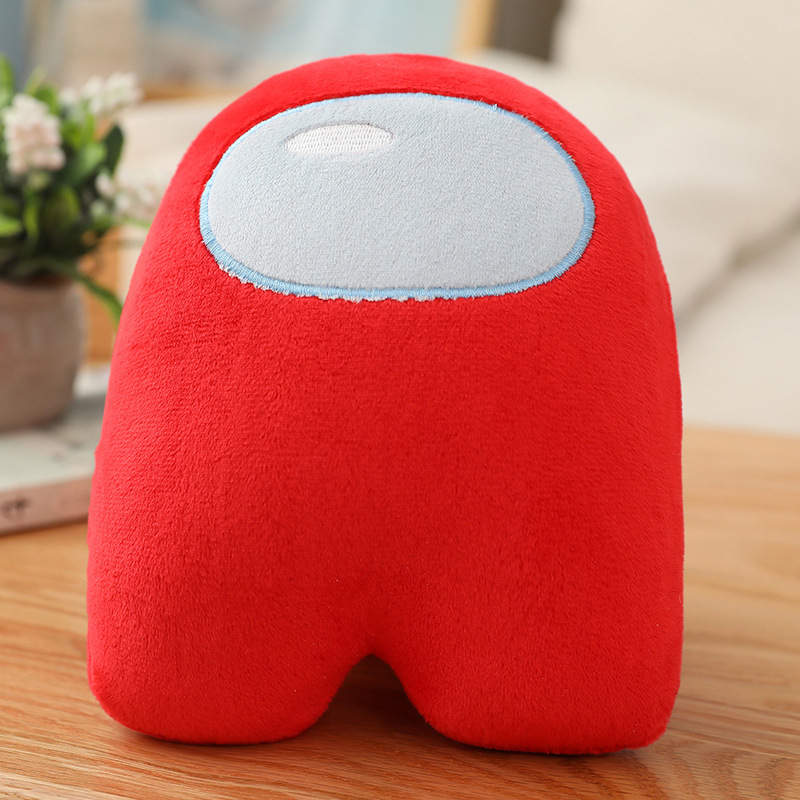 Among Us Game Plush Toy, Among Us Game Plush Toy-Red
description

Our Among US Body Pillow is the perfect gift for yourself or anyone you know who is a fan of Among US. Decorate your bed with just one purchase.The Among US Body Pillow is a perfect decoration, and with the pillow, you can have him all year round. Get your kids away from their screens for a minute.
Note: Please allow 1~2cm deviation because of hand-cutting and sewing. Colors may vary slightly due to different computer screens.
shipping

Free shipping for orders over $49

You can choose the shipping method during checkout:

Standard shipping: $7.99

Arrives 7-15 business days after the production time

Express Shipping: $29.95

Delivery 4-6 business days after the production time
Among Us Merch
Do you enjoy playing Among Us? Are you a fan of Among Us? Then welcome! You've come to the right place. Among Us has developed a massive following since its initial release in 2018. The social deduction game from indie studio InnerSloth has become a pop culture phenomenon. This is where people can find shirts, stickers, hats, and even Among Us wall arts. It's a great way to support other fans and show some love for Among Us at the same time. These items, like Among Us hoodies, tend to sell out pretty quickly, so it's a good idea to check back regularly and see what fan-created merch is available.
What is Among Us?
Among Us is a social deception game that can be downloaded for free on Android and iOs, or purchased for use on a PC. It can be played with a group of between 4 and 10 players either online by joining a game with strangers, or players can host or join games with friends.
How Does Among Us Work?
The premise of the game is simple – players are given the role of either a crewmate or an impostor. The crewmates must complete a list of tasks on a spaceship to get it ready for departure. Some tasks such as 'Clean O2 Filter' are relatively quick to complete, while others such as 'Fix Weather Node' require multiple steps. However, the game has at least one impostor who is trying to sabotage the ship and kill all the crew.
As the game continues the impostor undermines and starts to kill members of the crew. The game is paused when a body is discovered or to call an emergency meeting to discuss who the impostor might be and why. Players will have been paying attention to the behaviour of others in the game to try and figure out who the impostor on the ship is. During the discussion players will vote for who they think was acting suspiciously enough to be the impostor. If a player gets enough votes they will be ejected from the game, and whether they were a crewmate, or an impostor will be revealed.
To win the game the crewmates must complete all the tasks or discover the impostor. The impostor will win if they can avoid detection and kill off the whole crew.
Among Us Merchandise
Among Us merchandise is now available for worldwide shipping. Explore our vast inventory of Among Us Merchandise with some of the best in costume, including Among Us backpacks, hoodies, and tote bags. There are phone cases and stickers. Among Us is famous for its costumes, and fans can also purchase shirts and hats adorned with Among Us' logo and characters. There are even household items like pillows, posters, lamps, and wall clocks available for purchase, for anyone who wants to decorate their homes in an Among Us style.
Among Us Clothes
This is for all Among Us lovers out there! We've got the best collection of Among Us clothes around! Our clothing is better-looking and of better quality compared to those from other shops. Many sizes, many colors, and many styles are available in Among Us clothing line. Our Among Us casual clothes are designed with accuracy and precision, which guarantees that it is the quality that everyone deserves. One will never regret buying it. It's worth buying.
Among Us Accessories
We've got the greatest collection of Among Us accessories around! We've got tons of accessories inspired by the various characters of the Among Us. We have Among Us phone cases, keychains, stickers, post cards, bound notebooks, luggage tags, mugs, and more! These accessories are made out of solid and strong materials. Shop and get your hands on one of our Among Us accessories now!
Mission of Among Us Merch
Our objective is to make it as easy as possible for fans and the community to get what they want without having to work as hard as they used to. Being a shop that cares dearly for their customers, we would love to hear your feedback and reviews as well! Your reviews, no matter how insignificant you may see them, help our shop grow day by day by motivating us to do better, so we can't wait to hear from you!
Are you having problems with your delivery? Do you have any problems with payment? In any case, please contact us at [email protected]